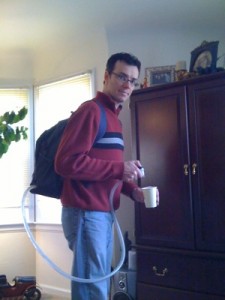 The day after Thanksgiving is "Black Friday", the day when companies around the U.S. come out of the "red" and into the "black". They do this by offering exceptional sales and make up profit in volume. The kicker is this… it's COLD and people start arriving to wait in line at, like 4am for the doors to open!!
So what does this mean to us? OPPORTUNITY!!!
Our students and college/career groups will be descending on the major chains around our city with hot beverage packs, offering FREE coffee and hot cocoa as well as FREE warm gloves for those who have forgotten to bring some… We're so excited! We'll be handing out invite cards for our church, too!
Each of our rocket-packs were made on the cheap, and are basically portable backpack beverage dispensers. We'll be able to use these at events all throughout the winter with hot beverages and through the summer with cold drinks. Each pack contains a 2gal. cooler retrofitted with a dispensing hose, capable of filling 30 cups on each fill.
Backpacks: $9.99 each at Target
Coolers: $7.99 at Target
Hose: 10ft lengths for $8.00
Hose fittings: $20.00 for all
The coolers I bought were Rubbermaid brand, and the spout on the bottom was attached with a plastic nut from the inside. It was easy to remove by simply unscrewing.
After spending over an hour at Home Depot looking for fittings that would work, I gave up fruitless and decided to go to my local plumbing/hardware store. I basically took the cooler and hose in there, explained what I was wanting to do, and said, "make it so!" and they did!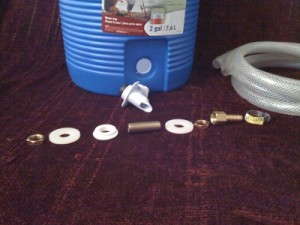 I don't know the thread sizes, diameters and such, but I'll explain what they pieces above are…
(From left to right)
– brass nut
– nylon washer
– rubber grommet (came with the cooler)
– threaded brass pipe (behind it is the nozzle from the cooler)
– nylon washer
– brass nut
– threaded brass hose end adapter
– hose clamp
– hose
Because the nozzle that came with the cooler was threaded, I simply heated up the hose end with very hot water, and then quickly screwed the nozzle into it. The result was leak-tight.
I wish I could offer more in the way of specs, but that's all I got!